Ok so this week I have had so much due, and even an assessment that is worth 45% of my overall grade is creeping up on me and I have to say, I am feeling the pressure.
I have also been really challenged by a couple of my assignments this semester and so like me, if you are feeling like you could do with a little extra support and guidance, here are some services we can tap into.
Source
The Learning Hub 
How many times have you needed support with?
Academic writing
Study skills
English language development
Library research skills
Digital Literacy
Maths (Through the Maths Hub)
Chemistry (through the Chemistry Hub)
You can register through the LMS for support in any or all of these areas.  For more information or to get involved click here. These topics are just the beginning… stay tuned for more support across other subjects.
Drop-in learning support with PLA's
The Peer Learning Support Service is across all campuses and they are ready to assist you with:
planning and writing assignments
referencing
managing your time
presentation skills (below this GIFF is how I feel my notes are shaking when I am presenting… I have one today and next week)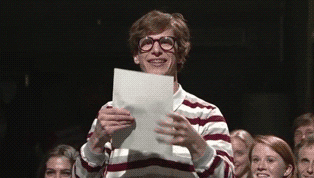 Source
Students helping students – to find your PLA's on campus and to view their drop in timetable, click here.
Start a Study Group
We have a 2 hour break on Mondays between lectures and one of my friends started booking a booth so we can all go there to work on our assessments together.  We discuss the assessment expectations and ways to tackle the research or questions involved… I have to say, I am loving it!  It is good to talk out what you are doing and check in with others that we are all on track.
Source
I absolutely recommend getting together and forming a study group, not only finding the help you need academically but being social helps you keep perspective when we begin to feel the pressure.  We tend to fit in a yummy lunch too before heading back to class.  I love it!
Learn with Lynda.com
Lynda.com is from LINKEDIN and there are a wealth of online tutorials to assist in consolidating what you are learning at Uni or to expand essential skills such as software literacy.
Source
Popular subjects include:
Time Management Fundamentals
How to use PowerPoint
Photoshop
Excel
Office 365
seriously worth checking out as there is almost a tutorial on everything 🙂  I even found one on using WordPress (which is the software we use to write the blog).
If you are confused as to where to start to get the help you need, you can drop into ASK La Trobe on Campus, or give them a call on 1300ASKLATROBE for more information on how to tap into these academic support services.
Good luck in week 8 everyone!  It's almost semester break – we can do this!