Hello Hello!
Welcome to WEEK ZERO!
Source
Yes Week Zero is a thing… well it is for me anyway.  This past year I wanted to just give myself the best start to the semester by being ready for Week 1.  So I tricked myself into thinking the week before Semester starts is actually the start by calling it WEEK ZERO.
Many of us turn up to our first class having downloaded the student guide or having had a quick flick through to see what assessments we have, but we don't look up our reading lists or even see if there is any online lecture content to watch before our first class.
I know its a little nerdy (and I am first to admit I am a big fan of nerds) but let's consider this WEEK ZERO where we set aside a little time to read the subject learning guides, add due dates to your calendars, get on top of any online lectures for Week 1 and begin our readings.  It gives you a whole extra 7 days under your belt to get a little ahead while you can, and you will start off the semester ready for the unexpected illnesses or extra work shifts that life throws at us.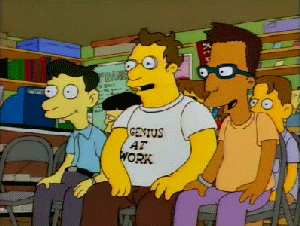 Source
I have to say this has really helped me this year … even if it is just 1 reading ahead that I do, psychologically I am a winner… and this really helps with my positivity and ability to managed everything else (like work, family and fun) outside of study.
WEEK ZERO works for me!