Even before semester begins, you may have questions about uni, or need assistance with enrolling and timetables.  
Where do you go?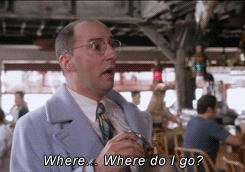 Source
ASK La Trobe
ASK La Trobe is your go-to place for all things La Trobe.  They are located at most campuses and in Bundoora they operate out of the Library.  If you go in person, you can use the QLess (download the app for your smartphone) and go buy a coffee and they will SMS you when you are next.
But you don't have to come onto campus to see ASK La Trobe.  You can fill in an online enquiry, check their FAQ sections online, or phone on 1800 ASK LA Trobe.
ASK La Trobe support you with:
New Students – how to accept your offer and enrol, orientation, defering and ID Cards
Enrolments and Timetables – subject and study load amendments, course transfers, leave, credit for prior leaning
Fees and Financial Support – loans, HELP and Financial support, scholarships
Student Life and Support Services – Accommodation and housing, leadership and volunteering, health and well being, visa and international student support
and more… check out their webpage to be in the know.
Source
ASK La Trobe have got you covered!